Description
Rich has finally had several of his original tunes expertly scored for 18-piece big band by arrangers Michael Abene, Gordon Goodwin, Wally Minko and Chris Walden. Producer Dan Fornero assembled an all-star big band and Rich had twelve magnificent arrangements recorded by award-winning engineer Tommy Vicari at Conway Studio in Hollywood, CA. The material covers a wide landscape of musical territory: you'll hear jazz, funk, Latin, baroque, reggae all the way to rock with masterful solos by some of the best musicians in Los Angeles (which translates to some of the best musicians in the world). This 77-minute CD takes you on a versatile and fascinating tour around the musical world. When you come in for a landing afterward you'll agree that it was a journey well worth your while.
PLAYERS AND INSTRUMENTS:
Rich Willey (trumpet, flugelhorn & bass trumpet)
Saxophones: Dan Higgins, Brian Scanlon, Bob Sheppard, Jeff Driskill/Sal Lozano, Jay Mason
Trumpets: Wayne Bergeron, Dan Fornero, Rob Schaer/Mike Rocha, Tony Bonsera
Trombones: Alex Iles, Andy Martin, Steve Holtman, Bill Reichenbach
Rhythm Section: Wally Minko (keyboards), Andrew Synowiec (guitars), Edwin Livingston (bass),
Peter Erskine (drums), Joey De Leon (percussion)
Very special guest Thomas Hooten on piccolo trumpet (Down & Dirty)
TRACKS AND TIMES:
1. Boogie Beast (arr. by Gordon Goodwin) 6:29
2. Down & Dirty (arr. by Wally Minko) 7:01
3. Walter The Ferret (arr. by Gordon Goodwin) 6:10
4. Eyes All For You (arr. by Chris Walden) 6:13
5. Dancing Hippo (arr. by Gordon Goodwin) 6:18
6. Ed Zachary Meets Gregory Peccary (arr. by Gordon Goodwin) 5:46
7. How 'Bout That? (arr. by Wally Minko) 6:50
8. Old Folks (by Willard Robison & Dedette Lee Hill, arr. by Michael Abene) 7:10
9. Little Treasures (arr. by Wally Minko) 6:05
10. Not So Fast! (arr. by Gordon Goodwin) 7:23
11. Funk Heap (arr. Wally Minko) 6:19
12. But For The Grace Of God (arr. by Michael Abene) 6:03
Hear the first two minutes of eleven of these charts under Arrangements.
YouTube Promotional Video (please share this with your friends, and your enemies!)
All tunes (except Old Folks) written by Rich Willey Ⓒ & Ⓟ 2018 Boptism Music Company, BMI
Review by Midwest Record
May 29, 2019
A trumpet cat that was brought along by some of the top old school jazzbos shows how he learned as he earned and puts those lessons to good use. Rounding up a crew filled with names even a jazz tourist would recognize, everyone gets a chance to shine in this big band date all the while serving to make Willey shine even more. A nicely jumping session that never falters, they make Willey's originals feel right at home in your ear and play with the kind of off-the-clock zeal old pros have when a good time is in the air and powering the proceedings. Well done. (Wise Cat)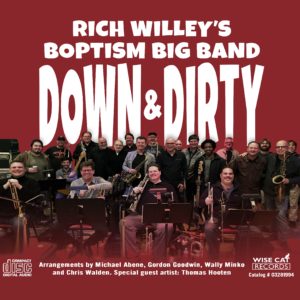 Review by trombonist Rick Simerly
May 27, 2019
I spent a good deal of yesterday listening to Rich Willey's new CD Down & Dirty. All I can say is WOW! What a great project. I couldn't find a tune I didn't like — great writing and titles 😊. Rich sounds great (hey man, he should quit playing bass trumpet! He's invading my space!) and the band is phenomenal! Needless to say the arrangements are fantastic and sound very difficult. Of course, this incredible band makes them all sound easy! Talk about heavyweights! The quality of the recording is pristine — so clean and the balance/blend is beautiful! The soft/pianissimo sections are legitimately soft — not "dialed down" from the control booth! The only problem is there aren't enough superlatives to adequately describe how good it is! Rich should be very proud!
I hope it get lots of air play and great reviews. I can't tell you how much I enjoyed it! Before long, I will be bragging to folks that "I used to play with Rich Willey!" Congratulations, Rich!