Recent News & Updates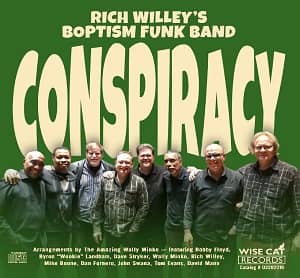 Composer Rich Willey, in an effort to get some of his tunes recorded as well as possible, assembled this amazing group of musicians at Manifold Recording Studio in Pittsboro, NC, from April 6–8 of 2019.
Read More
Rich has finally had several of his original tunes expertly scored for 18-piece big band by arrangers Michael Abene, Gordon Goodwin, Wally Minko and Chris Walden.
Read More
Tools to help you become a better jazz musician
"Is it true that I can achieve a form of self-transcendence by practicing demanding, in-depth materials and jump-start my musicianship by pushing myself beyond what I thought I was capable of achieving?" At Boptism Music we absolutely believe this is true. All of our Jazz Study Zone  materials are designed to challenge you and help you grow as a creative, improvising musician. Boptism Music can definitely help you get the ball rolling!
Trumpet & Trombone Lessons via Skype
Rich Willey, devoted student of Dr. Donald S. "Doc" Reinhardt, teaches trumpet and trombone students according to what he learned during his eight years of private, in-person study with "Doc" (including attendance at two of Reinhardt's three-day teacher's clinics) between 1978 and 1986. Thanks to Skype, online trumpet lessons and online trombone lessons are the perfect alternative to traveling great distances. Rich offers "chops" and/or "improv" lessons online.
Add Brass Tracks to Your Recording
Rich Willey offers virtual recording session services by providing brass tracks for composers and producers of many music and commercial media sound tracks (TV, film, video games & library). Rich composes, arranges, and records trumpet, flugelhorn, bass trumpet and tuba parts using a Royer R-122 ribbon mic, a Neumann TLM 193 large-diaphragm condenser mic as well as an Electro Voice RE20 dynamic cardioid mic for 100% guaranteed Pro Tools tracks that lay right into your project.