Description
Ed Zachary Meets Gregory Peccary  by Rich Willey arranged by Gordon Goodwin is a driving jazz/rock tune with some interesting chord changes for your soloists during the open solo section (with or without solo backgrounds).
Written for five saxophones, five trumpets (solo 5th trumpet part can be played on trumpet or flugelhorn), four trombones, piano, guitar, bass, drums and added percussionist. Doubles in the winds are as follows: ▪ alto 2 also plays flute, and ▪ baritone sax also plays bass clarinet.
The lead trumpet part goes up to an optional four leger-line G♯ on the last note. This tune is a solid Grade 5. Chart length is 142 written bars, tempo is ♩ = 160 and the score is 17 pages.
Our big band charts are now available only as PDF files for you to print out yourself (at half the price that we used to charge for printed parts).
Upon completion of your order you will receive a download link via an email receipt for your purchase.
Here is how this chart sounds as played by Rich Willey's Boptism Big Band:
Personnel:
Dan Higgins — 1st Alto Saxophone
Brian Scanlon — 2nd Alto Saxophone
Bob Sheppard — 1st Tenor Saxophone
Sal Lozano — 2nd Tenor Saxophone
Jay Mason — Baritone Saxophone
Dan Fornero — Lead Trumpet
Wayne Bergeron — 2nd Trumpet
Rob Schaer — 3rd Trumpet
Tony Bonsera — 4th Trumpet
Alex Iles — Lead Trombone
Andy Martin — 2nd Trombone
Steve Holtman — 3rd Trombone
Bill Reichenbach — Bass Trombone
Wally Minko — Keyboards
Andrew Synowiec — Guitar
Edwin Livingston — Bass
Peter Erskine — Drums
Joey DeLeon — Percussion
Recorded January 5th, 2019, Conway Studios, Los Angeles, CA, engineered by Tommy Vicari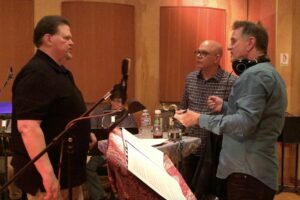 Rich Willey, Dan Fornero & Gordon Goodwin (Jay Mason seated)
Photo by Angela Fornero